As we're all familiar with HP's vast work in both the lower and higher ends of computing, we could probably guess that their proclivity for the cutting edge would lead them to the commuter's latest phenomenon: the Tablet. Whilst HP's 'laptop meets tablet' hybrid, The Envy has been at the top of many wanted lists, you may not have the cash or the need to completely update your kit. Maybe you're searching for something a little more modest, if so; take a look at Slate 7.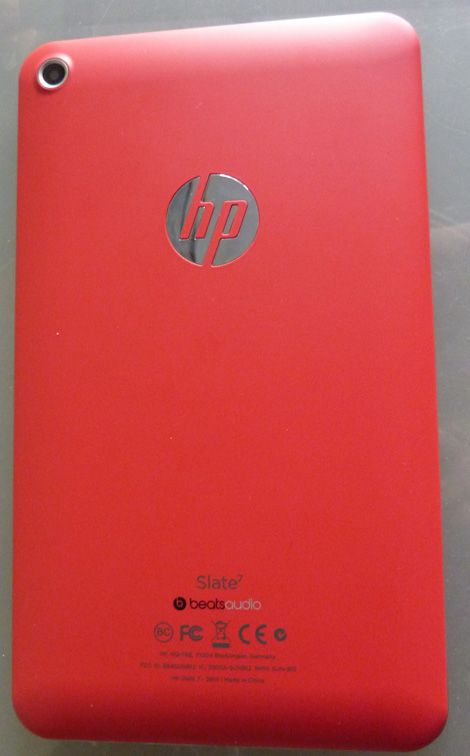 The 7″ size of the Slate is unusual, but it's dressed quite fetchingly. Its soft back plate comes in both a red and a grey, and a diminutive form helps the fact that the device is quite thick. In the top left hand corner, you'll find a camera (3MP). On the front, we have a second camera which is fitted for video chats, and underneath it the screen. Its size is 1024×600 and, whilst the colours are bright and the text is comprehensible, the resolution is not superb. Swiping through menus and scrolling through your Facebook newsfeed won't bring many issues to the table, however, when you begin scrutinising icons and trying to make out the nuances within a film's backdrop, you're bound to have issues. In this area, up against the Nexus it's bound to fall short.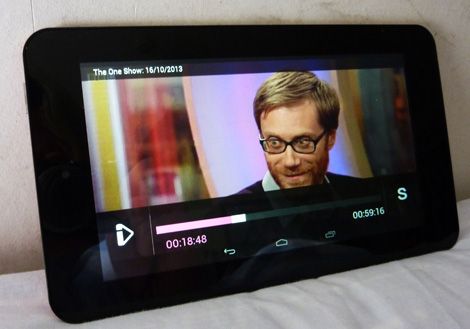 YouTube takeovers, international shows and access to Universal's catalogue: HP's endeavour into the music industry with HP Connected has gathered acclaim at a remarkable rate. An essential part of that branding has been their allegiance with Dr Dre's Beats Audio, technology which is used on the Slate 7. There are two separated speakers on the device, one left and one right aiming to create a stereo image. It is superior to other smaller tablet's sound system and functions proficiently for film viewings, however, the cone size prevents it from having ground-breaking depth and timbre.
Whilst the Slate 7 is HP's first venture into the world of Android, the majority will be familiar with what is a user-friendly, compatible system; however, Android Tablets don't yet have the volume of optimised applications developed for it to battle with Apple. Some apps are sluggish and frustrating: eBay in particular. I wouldn't count on this being a long-term issue though; a quick peek at any tech newsfeed and you'll see how Android is blowing up – for example, Twitter has announced the first tablet-optimised app version for the platform just this week. Their share of the market is too big for it to be a lingering issue.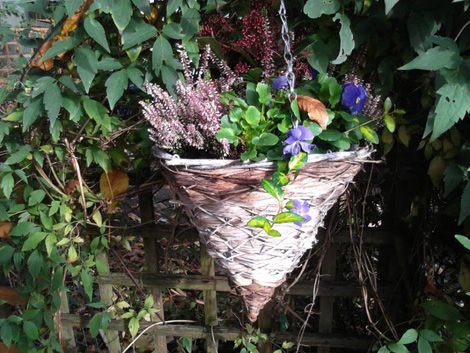 An impressive app on the Slate 7 is the idiosyncratic, solitary bundled program: HP ePrint. This is something which will scream sense to anybody who has a printer network and spends long hours away from home. It enables you to send images directly to your residential home for an instantaneous print, and the possibilities are endless.
The device comes with a good battery life (about seven hours) and a decent set of specs: a dual-core 1.6GHz ARM cortex A9 processor, 1GB of RAM, and 8GB of storage (with a micro SD slot). The latter is the most remarkable; speaking to a group of students at the University of Birmingham who had all trialled the Slate 7, one identified it as "an inexpensive commodity, nimble but with enough space to mould your work as it travels from A to B, whilst staying on board with all of your socials."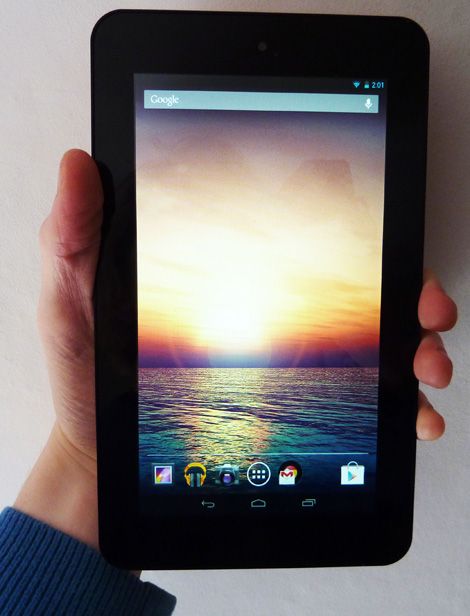 This is an affordable, access-level piece of kit, which could have been stranded between Google's Nexus and Tesco's recently-launched Hudl quite precariously. Yet it has quite honestly carved a unique space in the marketplace. Wherever HP has injected time and effort: the audio system, bundle apps, dual cameras – it enthrals. My advice on whether you purchase lies with your tablet needs. If you're looking for something to engulf your world with stunning high-definition aesthetics, and that will take anything you throw up against its processor, then the Slate 7 may not be for you. However, if you're looking for a durable, user-friendly entrance-level piece of kit, which remains competitive and is well-built enough for most things you throw at it (students and kids included), this £90 slate may well be the correct choice.